Wazzup, weirdos. Everything's the same here. Never thought unprecedented times such as these could be so tedious on a daily basis. Knock of wood, etc. The last thing 2020 needs is another murder-hornet-esque plot twist. With our luck, it'll be the zed word.
Anyway. I've finished my 2020 Goodreads challenge, yay me, and read a few truly fucked up books, but today, you're going to suffer through another Thursday Thoughts and you're going to like it or so help me God–
JK. I don't actually care!
Today's question, because Christmas is already on my mind, don't @ me, is: What is your favorite book to gift to other people?
It's one of two, a fiction and a nonfiction. For fiction, I will without hesitation fling a copy of David Benioff's City of Thieves at your head. This is pre-Game of Thrones, pre-douchey production guy Benioff, and buddy, this book has everything.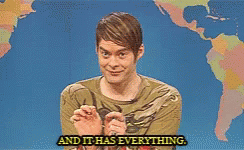 War, action, romance, Russia, a life and death quest for eggs to make a cake, bromance, black comedy, identity crises, a story within a story – what else could anyone possibly ask for from a single book? Nothing, that's what. This book is awesome, and I feel like, despite all the cannibalism, it appeals to a very broad range of readers – and non-readers as well. I've given this book as catnip for people (cough idiots cough) who claim they don't like to read, and pretty much every single time, they've come back asking for more books like this. Which actually sucks because this is a hell of a book to find read-alikes for, considering all of the points it hits. Read it, and thank me later.
For nonfiction, I give Mediations by Marcus Aurelius. Why? Because it's 2000 year old self-help that will actually help the self, and not some bullshit collection of platitudes thrown together by a self-annointed self-help guru who has teeth the colour of toilet paper and spews just about the amount of shit it will take to rope in unhappy idiots looking for a quick fix for their miserable capitalist-lackey lives. Fuck your self-help, you idiots. Read Marcus Aurelius and get the fuck over yourselves. Stoicism in a nutshell.
Well this post took a turn. Anyway. As always, you're welcome. Happy reading 
– xo, R