Hey hey, kingcakes and queencakes. I hope this glorious, shiny, new year is treating you as well as it is me.
But enough about me, let's talk about BOOKS (surprise surprise).
Have you all set your reading goals for this year? I'm going big this year: 123 books in 356 days. Crazy? Most definitely. Doable? We will see. As of today, I've read 5 (go me):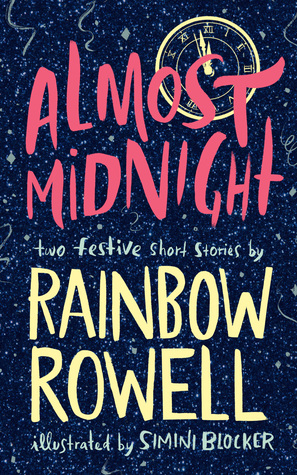 My first read of the year was Almost Midnight by Rainbow Rowell, which I read on New Year's Day, as befits a book partially about New Year's Eves (and ok, Star Wars, too), while I was lounging in bed with my wonderful boyfriend beside me, who was playing video games (and making fun of me for reading). It was an indescribably perfect moment. I can't think of a better way to start this year.
My next read: Basic Witches: How to Summon Success, Banish Drama, and Raise Hell with Your Coven by Jaya Saxena and Jess Zimmerman. Not my cup of tea, surprisingly. I thought it was a cute idea, but pretty superficial. You'd get much more out of a well-run witchy tumblr.
Next, one of my most anticipated reads of the year: The Cruel Prince by Holly Black. In my opinion, it's Black's best work yet. I usually find her world-building to be amazing, but her prose to be beautiful but shallow. Very pleasantly surprised to say that there is real depth to the characters here. And a few nice cameos (heyyy Roiben).
I chose to read Silent Child by Sarah A. Denzil next because apparently it was the highest rated debut on Goodreads this year? Or something? I dunno. Anyway, mystery's not my usual genre, but I've been reading more and more lately. This was pretty good – I definitely did not see the twist coming, which is a nice change. My inner Agatha Christie usually sees these things from a mile away.
And most recently, I read Kachka: A Return to Russian Cooking by Bonnie Frumkin Morales and Deena Prichep. Yes, it's a cook book, THEY COUNT, fight me, dammit. Ahem. This one was amazing, by the way. Actually makes Russian cuisine look, dare I say it, appetizing. I know, shocker. And the photos… hot damn. Soviet chic, my favourite aesthetic. Plan on making so many things I ended up buying this one.
And that's it so far! I'm currently reading like 30 books (don't judge me, pity me). I hope to blog at least once a month this year – aim low, right? But if you're dying for pics of books, usually in close proximity to a cat and some tea, follow me on instagram and never miss a moment in the glamorous and exciting life of me.
xoxo, R