WHAT IS UP, MY SCRUMPTIOUS GINGERBREAD PEOPLE? It's Christmas time, and you know what that means…
Books. Everything, always, forever, is books. Duh.
So to celebrate this festive season, here's a list of my all-time fave Chrimbooks. (Christmas = Chrimbo, + books. Chrimbooks. Whatever, it's a thing. Or it will be. Deal.)
Ok, hold on to your santa hats, let's get this festive list started!
1. A Christmas Carol by Charles Dickens
Duh. I mean, aside from the fact that I'm basically Ebeneezer Scrooge pre-Christmsa Eve revelation, I genuinely love this book. I'm sure you know the story, so I won't summarize, but if you haven't read it, do. It's short, it's a classic, and it will tug at those heartstrings. And then when you've read it, watch what is quite possible the best film adaptation of any novel ever: A Muppet Christmas Carol.
2. My True Love Gave to Me, edited by Stephanie Perkins
This is a collection of twelve short stories by some amazing YA writers, and it is festive af. I love almost every story, but I think my favourites are Rainbow's Rowell's story about a string of New Year's Eves and an evolving friendship, "Krampuslauf" by Holly Black, about a truly magical and slightly monstrous Christmas party, and "The Lady and the Fox" by Kelly Link, which is one of the best short stories I've ever read, and includes embroidery magic, which is awesome.
3. A Wallflower Christmas by Lisa Kleypas
Fluffy romance novella from one of my favourite historical romance writers. This is also a kind of bonus epilogue to Kleypas' Wallflower series. I really enjoyed the way the central romance, as well as the focus on Victorian Christmas traditions. Also, festive smut is the best smut (see below).
4. Little Women by Louisa May Alcott
Another classic – the opening chapter oozes Christmas – the March girls dreaming of their most coveted Christmas presents, the grand Christmas breakfast give to the less fortunate Hummell family. It's all goddamn delightful. (Also, dibs on Christmas Ooze for the name of my Death Metal Christmas album.)
5. "The Gift of the Magi" by O. Henry
According to my great uncle Danny (okay, and a lot of people), O. Henry is one of the foremost writers of the short story in any language. If any story stands out as the must-read of his oeuvre, it's this one. It was written in 1905, but the story feels incredibly fresh. (Bonus – it's available to read for free online here!)
6. A Christmas Story by Jean Shepherd
Jean Shepherd is the god of my favourite sort of writing, the mundane epic, in which schoolyard fights become legendary battles and a Red Ryder BB gun is more precious than the Holy Grail. This collection of essays was the inspiration for the best Christmas movie ever made.
7. The Night Before Christmas by Nikolai Gogol
Christmas, Nikolai Gogol style. Funny, dark, and weird. The devil makes an appearance, of course.
8. Sir Gawain and the Green Knight by *gasp* unknown!
The "Christmas game" is what sets the whole business off, so I'm counting this as festive enough for this list, fight me.
9. Sharpe's Christmas by Bernard Cornwell
Two stories featuring everyone's favourite sexy rifleman bastard as he thwarts the French not once, but twice. Oh, Sharpe.
10. Silent Night by Deanna Raybourn
A novella entry in the excellent Lady Julia series. I recommend reading the rest of the series first, as they're all excellent, but I really loved this one and wished it was longer. (I also really hope we get more of this series in the future.)
11. A Very Russian Christmas
I almost started crying actual tears of joy when I found this at Type Books in Toronto. I love Christmas, but I LOVE Russian Christmas. An eclectic mix of stories by some well-known and some lesser-known Russian writers.
12. A Very Russian Christmas by Roxie Rivera
Christmas smut is good. Russian Christmas smut is even better.
13. Every single Harry Potter book
Christmas at Hogwarts. Is there anything better? No, no there is not.
Well, that's it, reindeers and reindarlings. I hope your Christmas Eve will be as pleasant as mine. I plan to spend it curled up in bed with a good book and a sleepy cat and a steaming cup of tea.
Oh, here's Book Cat, who's gotten into the Christmas spirit.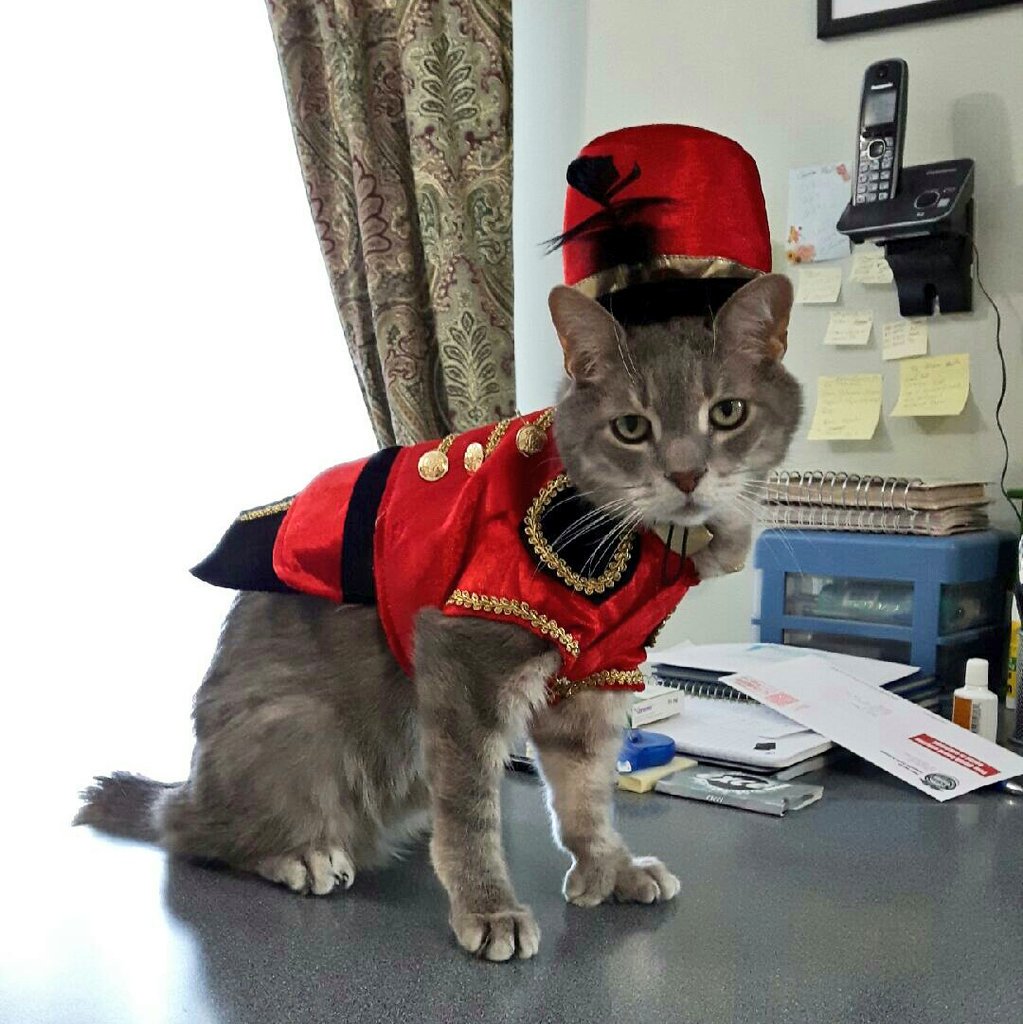 May your Christmas be lovely and bright and warm. Best wishes from me & Titus!
xoxo Robyn