What's the word, book nerds? Yes, I'm back already. I need to cleanse the review palate after that last nightmare of a review.
So. Let's dive into a wonderful book, which I discovered, as I do so many wonderful things, on blessed Tumblr, light of my life, fire of my heart. Ah, Tumblr, how I love thee!
Ahem. So anyway. It's Song of Achilles by Madeline Miller. Behold the cover in all of its burnished glory:
The Deal: Greece in the age of heroes. Patroclus, an awkward young prince, has been exiled to the court of King Peleus and his perfect son Achilles. Despite their difference, Achilles befriends the shamed prince, and as they grow into young men skilled in the arts of war and medicine, their bond blossoms into something deeper – despite the displeasure of Achilles' mother Thetis, a cruel sea goddess.
But when word comes that Helen of Sparta has been kidnapped, Achilles must go to war in distant Troy and fulfill his destiny. Torn between love and fear for his friend, Patroclus goes with him, little knowing that the years that follow will test everything they hold dear.
Robyn says: Guys. GUYS. This book is AMAZING. Amaaaaaaaazing. I can't even talk about it omigod shut up SHUT UP. Ugh, like, perfection. The writing itself is beautifully crafted. It's freaking art. Art, I tell you. Ugh it hurts just talking about it. I mean–
"I could recognize him by touch alone, by smell; I would know him blind, by the way his breaths came and his feet struck the earth. I would know him in death, at the end of the world."
DYING.
Plus, there's character development and action and well-researched historical details and fantasy elements and a beautiful love story (that isn't *cough* rapey as fuck *cough*). I really can't even describe how lovely this book is. I wish I hadn't waited so long to read it. As always, tumblr was right. (I love you, tumblr.) Warning, though: this book will turn you into a fathomless pool of tears. It will break the cold, black stone masquerading as a heart inside your chest. It will DESTROY you. I'm crying right now, man. (No I'm not.) (Okay, maybe a little.)
Verdict: Learn from my mistakes and do not repeat my folly of ignoring tumblr's wisdom! READ IT.
And then when you've read it, join me in haunting tumblr to swoon over the fanart and edits (#tsoa, fyi)
tumblr fanart and edits
Best lines: Hard to choose just one. Goodreads has a great collection. I think this might be my favourite, or one of them, at least: "We were like gods at the dawning of the world, and our joy was so bright we could see nothing else but the other." Isn't that a perfect description of being in love? Ugh, so good.
Rating: 10 out of 10 broken hearts. I'm not crying, you're crying.
ROBYN'S FINAL THOUGHT: Sigh. Will anyone ever love me enough to slay a thousand men and eviscerate a powerful Anatolian city in my name? WILL THEY???
Oh, here's Book Cat.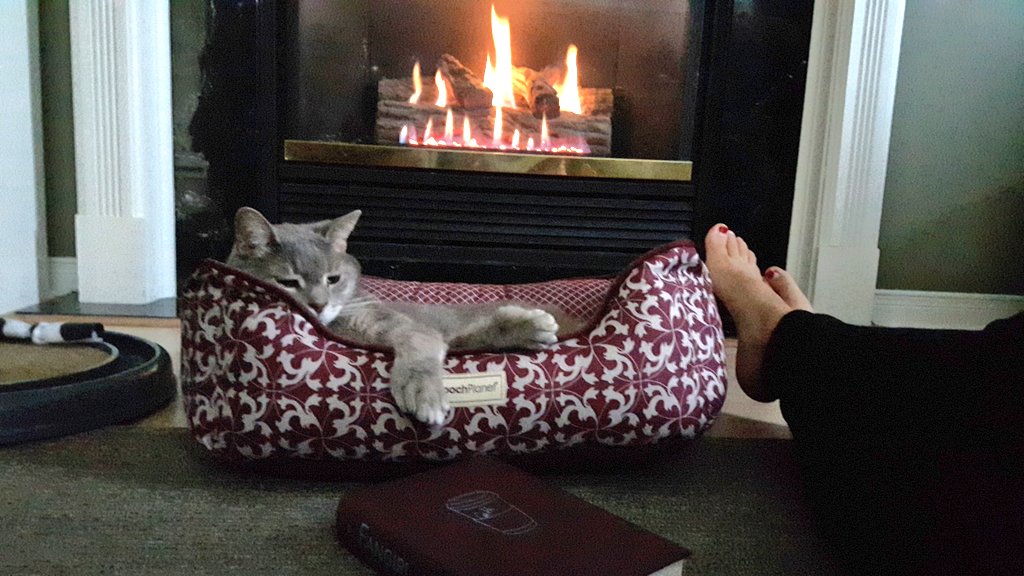 Oh, Titus. That's cold, dude. Cold.
Stay warm, chickens!
xo, Robyn