Hey hey heyyyyyy. Yes, it's me, the queen of sporadic book-blogging, how goes it? I myself currently hate everything and everyone (except you, dear reader, of course). Feeling very The-Second-Coming-y if you know what I mean. MOVING ON.
Today I bless your eyeballs and brainballs with some Quality Content: another entry in the Nonfiction Benediction series, focusing on the Queen Herself, Beyoncé Giselle Knowles-Carter, first of her name, a.k.a. Queen Bey. YES GOD. The book is Queen Bey, a collection of essays edited by Veronica Chambers.
You ready? (I don't think they ready) (sorry) (not sorry)
Cover Talk
Iiiiiiiiiiiiiiiiiiiinteresting. I mean, yes, gorgeous, flawless, Bey in a beautiful gown, but also, in another way… hm. I mean, it's Beyoncé, any picture they chose would have made a beautiful cover, but I think they could have gone farther. This feels kinda flat, no? And she is anything but flat.
The Summary Heist
Beyoncé. Her name conjures more than music, it has come to be synonymous with beauty, glamour, power, creativity, love, and romance. Her performances are legendary, her album releases events. She is not even forty but she has already rewritten the Beyoncé playbook more than half a dozen times. She is consistently provocative, political and surprising. As a solo artist, she has sold more than 100 million records. She has won 22 Grammys and is the most-nominated woman artist in the history of Grammy awards. Her 2018 performance at Coachella wowed the world. The New York Times wrote: "There's not likely to be a more meaningful, absorbing, forceful and radical performance by an American musician this year or any year soon." Artist, business woman, mother, daughter, sister, wife, black feminist, Queen Bey is endlessly fascinating.
Queen Bey features a diverse range of voices, from star academics to outspoken cultural critics to Hollywood and music stars. Essays include:
"What Might a Black Girl Be in This World," an introduction by Veronica Chambers
"Beychella is Proof That Beyoncé is the Greatest Performer Alive. I'm Not Arguing." by Luvvie Ajayi
"On the Journey Together," by Lena Waithe
"What Beyoncé Means to Everyone," by Meredith Broussard with visualizations by Andrew Harvard and Juan Carlos Mora
"Jay-Z's Apology to Beyoncé Isn't Just Celebrity Gossip — It's a Political Act" by Brittney Cooper
"All Her Single Ladies" by Kid Fury
"The Elevator" by Ylonda Gault
"The Art of Being Beyoncé" by Maria Brito
"Getting, Giving and Leaving" by Melissa Harris Perry and Mankaprr Conteh
"Beyoncé the Brave" by Reshma Saujani
"Living into the Lemonade: Redefining Black Women's Spirituality in the Age of Beyoncé" by Candice Benbow
"Beyoncé's Radical Ways" by Carmen Perez
"Finding la Reina in Queen Bey" by Isabel Gonzalez Whitaker
"Beyoncé, Influencer" by Elodie Maillet Storm
"The King of Pop and the Queen of Everything" by Michael Eric Dyson
"Style So Sacred" by Edward Enninful
"The Beauty of Beyoncé" by Fatima Robinson
"Because Beyoncé." by Ebro Darden
"King Bey" by Treva B. Lindsey
"Meridonial: Beyoncé's Southern Roots and References" by Robin M. Boylorn
"B & V: A Love Letter" by Caroline Clarke 
Robyn Says
Full disclosure, I loved this book (and not even because my fiance got it for me, which generally increases my enjoyment of a book). I was not initially a huge Beyoncé fan, although I've followed her career from Destiny's Child on. But when Lemonade dropped, my mind was blown. Grown-up Beyoncé, artistic, powerful, angry Beyoncé – she's definitely one of my role models, so I was really keen to read this, and to my surprise, I was not disappointed.
Of course, it is a collection of essays from different writers, which means that the quality of writing varies, and that some essays will be of greater interest than others. I definitely had my favourites, and there were a few I skimmed, but overall, I loved the attempt to explore Beyoncé's evolution and impact on many different levels, in a nonlinear and inclusive fashion. Having many different contributors serves to emphasize just how far-reaching Beyoncé's cultural influence is.
A few of my favourite pieces were: "Beychella is Proof That Beyoncé is the Greatest Performer Alive. I'm Not Arguing" by Luvvie Ajayi (agreed), Beyoncé the Brave by Reshma Saujani, and "The Art of Being Beyoncé" by Maria Brito. My favourite piece of all was "The Elevator" by Ylonda Gault – I've been fascinated by what happened with 'a million dollars in the elevator' ever since the TMZ video hit the internet, and this essay delved into the debacle in a thought-provoking and poignant manner.
The reason I gave this collection 5 stars on goodreads was because when I read the last page and closed the book, I felt like my understanding Beyoncé as an artist, performer, and cultural figure had grown. And I felt like I could take over the goddamn world. 
Verdict
Read it. It's Beyoncé, dammit.
Best Lines
Yeah, I definitely did not take notes. In my defense, I was sick, and I am also incredibly lazy.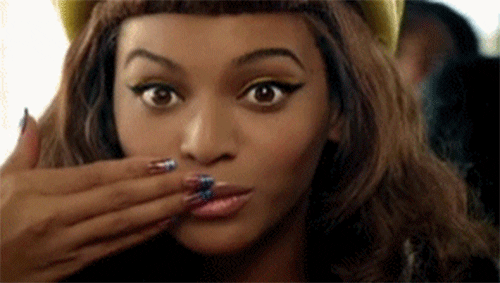 Fancasting couch
Duh.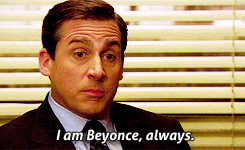 Book Boyfriend material
Rating
Nine out of 10 baseball bats (yas girl)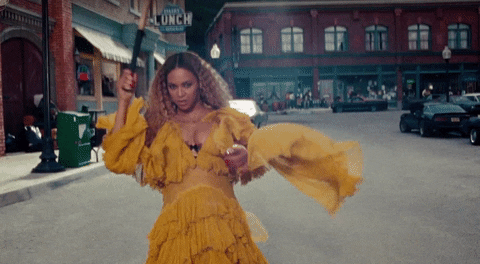 ROBYN'S FINAL THOUGHT
I could probably communicate entirely in Beyoncé gifs. Who needs words when you have a literal goddess to express literally any emotion for any situation you could possibly imagine? And there is only one song that makes me feel better when G pisses me off: 
Amen, B.