What ho, lambkins and ladybirds! I hope March has treated you better than it has me. I have been suffering through a horrendous book slump. At this point, I think I might just have to reread one of my favourite series to shake it off. (Dragonriders of Pern? Downside Ghosts?? Every single Richard Sharpe book???) But any rereading will have to wait until May because this month, I am doing a thing, possets. It may be a foolish thing. It may be a thing that reveals my literary hubris. It may be a thing that no one but myself cares about at all. But it is most definitely a thing that I am doing. LISTEN UP.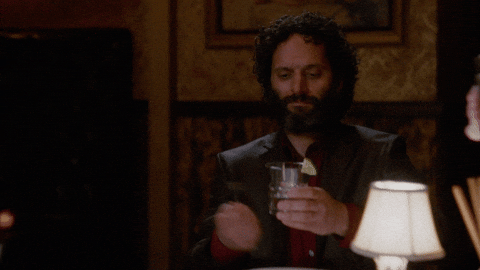 The thing is that April is going to be a month of SHAKESPEARE. In the next 30 days, I will endeavour to read every single one of Shakespeare's plays. That's right, every. single. one. And blog about my thoughts, of course. There will be gifs, and pictures of my cat with my Riverside Shakespeare, and probably a lot of raging about high school English lit curriculum design. And because 2018 is all about The Brand™, I am gonna do the whole bookstagram strut and surround myself with a maelstrom of hashtags. How about… #30DaysofShakespeare. And #robynreadsshakespeare. And also #monthofthebard. I am the boss of this whole thing, so yeah, those work.
Why April? Because it's the month of his birth and his death, and also National Poetry Month, and because I want to. Why do this stupid thing at all? Because I devoted a large part of my undergrad to studying Shakespeare and still haven't read every play. And because I feel intellectually stagnant and want to challenge my atrophying brain. And because I like themes and challenges and making big plans that will inevitably go awry and end with me cursing my own overly ambitious goals. And because I want to.
There is only one rule: read every play by old Shakey. I'm gonna go chronologically, which means my month of the Bard will look something like this:
Comedy of Errors
Henry VI, Part II
Henry VI, Part III
Henry VI, Part I
Richard III
Taming of the Shrew
Titus Andronicus
Romeo and Juliet
Two Gentlemen of Verona
Love's Labour's Lost
Richard II
Midsummer Night's Dream
King John
Merchant of Venice
Henry IV, Part I
Henry IV, Part II
Henry V
Much Ado about Nothing
Twelfth Night
As You Like It
Julius Caesar
Hamlet
Merry Wives of Windsor
Troilus and Cressida
All's Well That Ends Well
Othello
Measure for Measure
King Lear
Macbeth
Antony and Cleopatra
Coriolanus
Timon of Athens
Pericles
Cymbeline
Winter's Tale
Tempest
Henry VIII
SO that's 37 plays. In 30 days. Oh, new hashtag (#30days37plays). It's gonna be one gloriously poetic nightmare of a month.
See you tomorrow. Now, where the hell is my copy of Comedy of Errors…
xo, R