Holla holla get a dolla! How goes it, nerds? Lemme tell ya, I have been bogged down with children's programming (snort). I mean, you guys have no idea how much work goes into planning these storytimes (snicker). Shit, my current library even gives us a month off from delivering programs so we won't be overwhelmed with the effort of coming up with the next "session's" programs (hearty guffaw).
Yeah, I'm messing with you. Not about the month off from delivering programs, that shit is actually true, and yes, you're right, it is bullshit. Bish I'll plan a babytime in my sleep. Shit I'll give you one now: song, stretch, rhyme, book, finger play, rhyme, song, book, felt board, song, book, good bye and fuck off you little fuckers. BOOM. Best program ever, fight me.
Segway segue!
So I quit twitter last week while in the middle of a one-sided lovers' tiff (don't worry, all's well with me and the dragon-slayer) and GOOD GOD, that has been the best decision I've made since growing out my mohawk. I used to think I couldn't quit twitter because of the amount of news, both bookish and otherwise, it was providing, as well as a hearty dose of digital FOMO. Guys, let me tell you, I was SO WRONG. I just get my bookish news from other online sources (w e b s i t e s), and for details about our current spiral into a terrifying global dystopia, I simply read – wait for it – a newspaper. Can you believe it? Crazy, right??
The best effects of quitting twitter have been: 1) I no longer exist at a baseline 9/10 stress level, and 2) free time. SO MUCH FREE TIME. I've read 6 books in 6 days. That's a BOOK A DAY, people. Okay, so one was a middle grade and one was poetry, but still. I've haven't written anything, but fuck you, we won't talk about that.
Unfortunately, all of the books I read were kind of meh, so today, cowering behind the shield of shiny new (temporary) title of Children's Librarian (okay, so Information Services Technician in the children's department, and fuck you, you know it's the same fucking thing, fucking bureaucrats amirite?), imma talk about some of the kids' books I've been reading as I  get these storytimes all prepped up. (FYI, for you rubes who don't know the lingo, JPIC is a common code for Junior Picture Books.) Ready?
1. Not a Box by Antoinette Portis
Hated it. This is one of those artsy books that hipsters buy for their kids because they're different and ""artsy"" (ugh) but in reality, the kids don't look at twice, and there goes hipster parent's $18.99 down the drain.
2. Rude Cakes by Rowboat Watkins
Excellent. Cakes and rudeness, two things I can really get behind. Adorable illustrations and a good lesson, and simple enough for even a baby time, I think.
3. Rain! by Linda Ashman and Christian Robinson
Really liked this one – old school illustrations that I think would still appeal to kids, and an excellent story. Really simple language, with lots of repetition.
4. Pete the Cat: Rocking in My School Shoes by Eric Litwin and James Dean
Did not like this – in fact, put me on the record as being firmly Team Do-Not-Put-Songs-In-Your-Books-Unless-You're-J.R.R.-Motherfuckin-Tolkien.
5. There Are Cats in This Book  by Viviane Schwarz
Okay, so I really liked this one, but when I used it in my pet-themed storytime, I don't think the kids were really feeling it. Granted, it was the second book, and they may have been a little keyed up from my amazing felt-boarding skills, but I think maybe this is more of a one-on-one book. The book is pretty interactive, which I liked, with the titular cats addressing the reader as well as lots of flap to lift.
6. Oh No, George! by Chris Haughton
Ah, a refrain with which I myself am, alas, very familiar. Oh no, George, indeed. Lol. (Jokes aside, pretty good. Not a huge fan of the illustration style, but the kids dug it.)
7. Don't Splash the Sasquatch! by Kent Redeker
This was excellent – I'm definitely using it in my first storytime of the summer, which will be, in a stunning demonstration of jaw-dropping creativity, summer-themed. Lots of silly action words and delightful illustrations. 13/10 would use for storytime.
8. The Book with No Pictures by B.J. Novak
Nah. Alternate title: You Bought This Book Because You're A Hipster and You Don't Actually Care What Your Kids Want to Read.
9. If You Give a Mouse a Brownie  by Laura Joffe Numeroff and Felicia Bond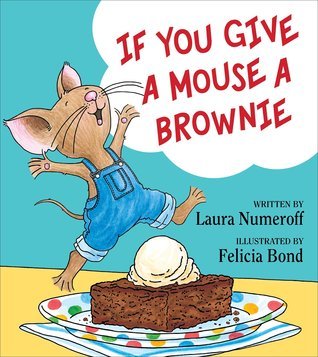 Hells yeah. A fun little book that is kinda like chaos theory for kids. If you give that little fucken mouse a brownie, WHO KNOWS WHAT COULD HAPPEN?? Part of a series, apparently. Looking forward to using these.
10. Birdsong by James Sturm
The most intellectually interesting book on this list – consists of no words at all. Basically the opposite of the the B.J. Novak hipster nonsense above. Each spread has a picture on the right hand side, and a blank space on the left page, where you would expect to see words in a traditional storybook. Apparently, this would provide the opportunity for the child to tell the story themselves. However, while I would absolutely love this for a one-on-one storytime, I can't see any way this would work in a program 😦
Alright! That's it for today's brief foray into JPIC. Hope you enjoyed the wild ride. My shift finishes in 17 minutes, and I plan on spending that time scouring food blogs for recipes to win the undying devotion of my broad-shoulder, ill-tempered lover.
Peace bishes!
-xo, R