HELLO THERE. Long time no see. Did you guys know it was 2016? Yeah, me neither. Anyway, I hope this capricious new year is treating you right a month and a fortnight in. Me? Oh, the flimsy foundations of my life are crumbling to dust around me as I type this, faithful internet friends, but I soldier on, because BOOKS.
So. First actual book review of 2016. Pathetic, I know. I'll make it up to you by giving you good one. It's The Tsar of Love and Techno by Anthony Marra and it unmade me and remade me a dozen times in the span of 352 pages of glorious, astonishing, transcendent prose. WITH RUSSIANS! (+1 Russians)
So. It's been a while. *Cracks knuckles, brushes dirt off shoulder, backflips.*
Let's do this.
The Deal (stolen, as always, from the jacket copy): This stunning, exquisitely written collection introduces a cast of remarkable characters whose lives intersect in ways both life-affirming and heartbreaking. A 1930s Soviet censor painstakingly corrects offending photographs, deep underneath Leningrad, bewitched by the image of a disgraced prima ballerina. A chorus of women recount their stories and those of their grandmothers, former gulag prisoners who settled their Siberian mining town. Two pairs of brothers share a fierce, protective love. Young men across the former USSR face violence at home and in the military. And great sacrifices are made in the name of an oil landscape unremarkable except for the almost incomprehensibly peaceful past it depicts. In stunning prose, with rich character portraits and a sense of history reverberating into the present, The Tsar of Love and Techno is a captivating work from one of our greatest new talents.
Robyn says: I read the title and that was all it took. Because that is some title. A++. And that cover – love love LOVE. Seriously, before we get into the deeply insightful intellectual discourse you expect to find here at 96 Euston Road (ahem), let's take a minute to soak in the epic cover-porn of this beauty. And it's relevant to the book, so it's pretty AND clever (like me hahahaHA shut up). Because this is a collection of short stories, which is really just a prose narrative mix-tape, right? (See, Mom? That English literature degree is worth something after all!)
Now, onto the book. By Rasputin's undead head (too soon?), this book was AH-MAAAH-ZING. The writing is stunning – there were times that I had to put aside the book and repeat the last sentence I'd read aloud to myself, just savouring the masterful way Marra uses language. I started to write down my favourite sentences and passages but eventually gave up because there were simply too many. When I buy a copy of this book (eventually), I intend to re-read it slowly and annotate the hell out of it.
As for the stories themselves… I don't think I've reviewed a short story collection on the blog before, have I? If this were any other collection, I'd probably have to rate each story individually, but I won't do that now. There's no need, because all of the stories are marvellous, and also I returned the book to the library already and didn't think to write down all the individual story titles. I loved them all. There were a few I loved even more than the others, but I'd be hard-pressed to choose a favourite. Actually, no, that's a lie, my favourite was the fourth story, "A Prisoner of the Caucasus." Another Kolya to add to my list of book boyfriends (it's weird how many of my book-boyfriends are named Kolya, right?).
What's really great about The Tsar of Love and Techno, and why I think everyone should read it even if they think they loathe short story collections, is that all of the stories are connected. Ostensibly, it's the appearance of or oblique reference to a fictional painting by a real-life Russian artist that connects the stories, but there are other things that link the stories, too. The most obvious is the setting – if you hadn't guessed from the title, the stories all take place in Russia (okay, some take place in Chechnya, but we'll get to that). The characters are also connected, though sometimes this isn't immediately obvious. Guys, you would not believe the number of times I realized who the characters of one story were in relation to those of another and actually shrieked in delighted OMG surprise.
The Soviet era and the Chechen War (and, I'd argue, by extension, the damage wrought by two different forms of Russian government) loom over the collection as a whole. As you can imagine, there is a definite grimness to most, if not all, of the stories, but Marra is also very funny. It's a dark kind of humour–very Russian, and very fitting–and an essential component to the success of the collection.
God, I really loved this book. I feel like I'm gushing, but it's so hard to talk about something you completely adored without sounding a bit like a teenager swooning over a crush in her pink polka-dot diary.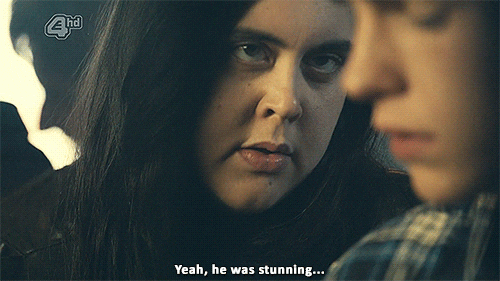 What didn't I like? Ooh, this is hard. Um… one story felt like it dragged, and I still can't tell if I thought the last story of the collection was amazing or awful or both and therefore perfect… but I kind of like that, too. It wasn't simple or easy, and I think that was exactly how the collection needed to end.
What I liked most of all was the connectivity of the collection. I've read reviews that said the links were a little too perfect at times, but I think that's a bit of a churlish critique, and really indicative of how you view the world in general. As Mel Gibson wisely said in the movie Signs, "I saw the sign and it opened up my eyes I saw the sign." Wait, that's not right. Oh yeah, here it is:
(Listen, I never thought I'd be quoting Mel Gibson in an M. Night Shyamalan movie either, guys, but this is happening, THIS IS WHO I AM NOW.)
Verdict: DUH. Read this book. Or as they say in Russia according to google translate, читать эту книгу.
Best lines: "You remain the hero of your story even when you become the villain of someone else's." (p. 9)
Rating: Canadian rating: 5 out of 5 heroic Soviet cosmonauts circling this pale blue dot we call home. Soviet Russian rating: in Soviet Russia, BOOKS RATE YOU.
JERRY'S ROBYN'S FINAL THOUGHT: What does a girl have to do to get a square-jawed Russian lover named Kolya?
Now, please enjoy the most Russian thing I could find on the internet:
Over to Book Cat:
Book Cat: "Well, well, so you finally managed to write a review, you slothful Philistine. Tut tut. I suppose you can share this portrait of me and my beautiful Russian friends, since it is in keeping with your theme. These lovely ladies and I were just discussing whether it is possible to fully appreciate the genius and beauty of that titan of Russian literature, Alexander Sergeyevich Pushkin, if one was not born speaking Russian as one's mother tongue. Alas, I think not, for surely the clumsy alchemy of translation cannot capture every breath-taking nuance, every monumental innovation of a tour de force like Eugene Onegin. We speakers of English must settle for inferior shadows of the masterpiece, and try not to dwell on what unimaginable wonders were, as the saying goes, lost in translation."
Er, yes. Yes to all of that.
… Anyways.
Das vedanya, comrades!